La fin d'année donne toujours l'occasion de bien (ou trop) manger donc pour éliminer tout ça, vous pouvez vous remettre au sport avec une playlist j-pop pour le sport concoctée par mes soins.
Vous pourrez retrouver sur le blog la première playlist j-pop pour le sport et la playlist K-pop.
Les chansons datent un peu mais elles ont été sélectionnées avec amour et testées sur mes séances de sport ce qui fait qu'elles devraient vous faire bouger ou vous motiver à bouger.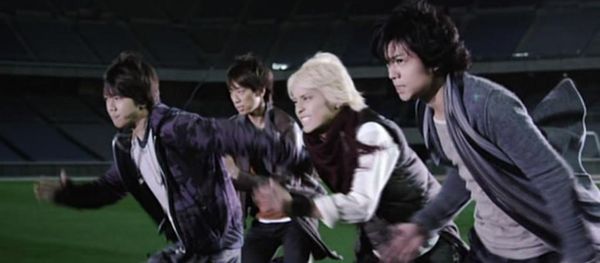 KAT-TUN – Peak
News – Gan gan gambatte
Arashi – Kitto daijobu
Asian Kung-Fu Generation – Haruka kanata
Aya Kamiki – Are you happy now
Asian Kung-Fu Generation – Rewrite
L'arc~en~ciel – Ready Steady Go
News – Smile maker
Arashi – Love so sweet
Aikawa Nana – Sweet emotion
Again – Yui
News – Change the world
NEWS – Sayaeudou
One Ok Rock – Yume yume
Ai Otsuka – Sakuranbo
Ryo Nishikido – Code
Kanjani8 – Misetekure
One Ok Rock – Keep it real
Spyair – 0 Game
Yui – Rolling star
Ai Otsuka – Peach
B'Z – Ichibu to zenbu
Orange Range – Ikenai taiyou
Mongol 800 – Chiisana Koi no Uta
Uverworld – Shamrock
Kanjani8 – Energy
Anna Tsuchiya – Lucy
Kanjani8 – Life ~me no mae no mukou e ~
KAT-TUN – Keep the faith
Namie Amuro, Anna Tsuchiya, AI – Wonder woman
High and Mighty colors – Ichirin no hana
Tokio – Do Do Do
Tommy Heavenly6 – monochrome rainbow
Halcali – Long kiss goodbye
Et vous quelles sont vos chansons pour vos séances de sport ?